Time & Place
Weekly Schedule
Sunday Mornings @ Portola Springs


• Worship Service @ 10:00am

• Children's Sunday School @ 10:30am*

• Coffee & Fellowship @ 11:15am

*Children sit with their parents until about 10:30, when they're released for Sunday School. Visiting families are welcome to stay together for the entire worship service.


Nursery and toddler care available.

The Sunday service audio is broadcast live.

Mid-Week Activities (various locations)

• Wednesday morning prayer @ 7:00am

• Men's breakfast every other Tuesday @ 7:00am

• Women's prayer 2nd & 4th Friday @ 10:30am

• Saturday morning prayer @ 9:00am

• Prayer booth

• Evangelism table

• Community Programs

See the calendar for additional time & place details!
Our Location
Meeting Location:
Portola Springs Elementary School
12100 Portola Springs, Irvine, CA 92618 Map

Mailing Address:
25422 Trabuco Rd STE 105-267, Lake Forest, CA 92630
Email Address: Phone: 949-656-2882
GPS NOTE: If you're using a GPS or other mapping & navigation tool to find our location, and the address isn't showing up, scroll down further to the Navigation Information & Assistance section. Clicking on the below map launches Google Maps with the school location marked for navigation.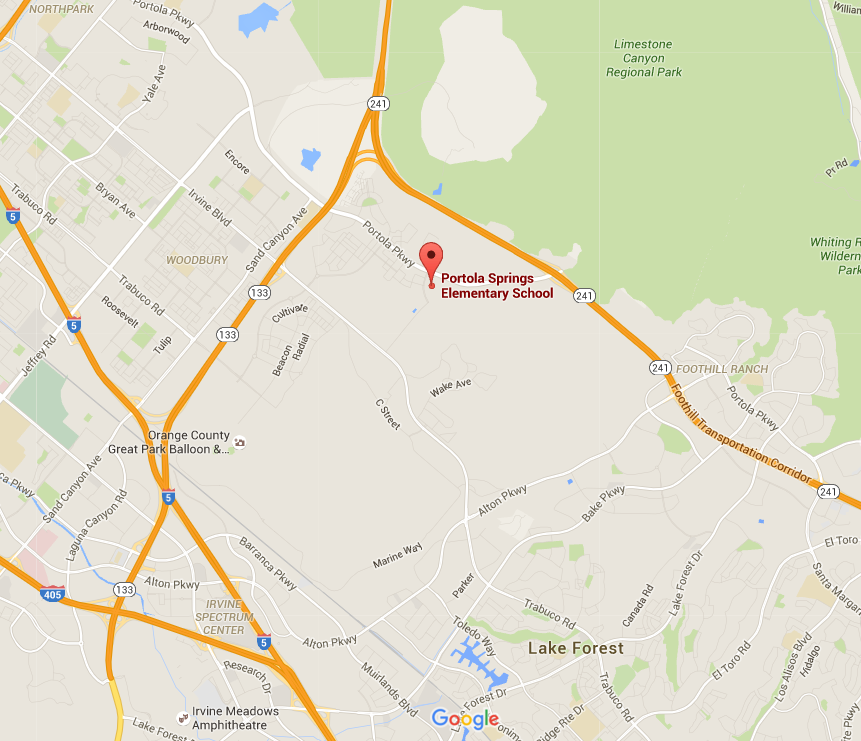 Navigation Information & Assistance
The Portola Springs area of Irvine is a dynamic and growing area, with many neighborhoods under construction, new residents moving in, and addresses being added on a regular basis. As a result, some GPS and navigation tools don't have the latest address information for the area, including the school address. If you're not driving while reading this, you can try updating the maps for your GPS device. You may want to try entering the address "12400 Portola Springs, Irvine CA", which is the address of the OC fire station next to the school. Another method for locating the school is to enter an intersection, since the school is at the corner of Portola Springs & Portola Parkway. You can do that on most GPS devices by selecting "Search" or "Where To", followed by choosing the category of "Intersection", then entering the city name of "Irvine" (without the quotes), followed by entering each of the two street names with their proper suffix abbrevaitions. In this case the entries would be "Portola Spgs" and "Portola Pkwy" (without the quotes).